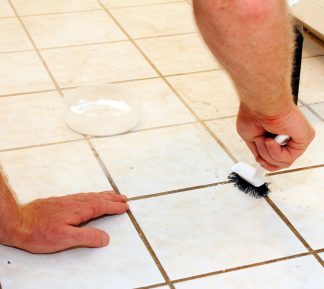 June 15, 2022
How Often Should I Have My Tile & Grout Cleaned?
No matter where your tile and grout are located – kitchen floor or shower walls – eventually they can both start to look old and dingy. Grout especially will take in spills, grease, grime, dirt and more as it is a porous substance. Stuff can really settle into your grout and bring down the look of your whole tile and grout floors or walls.
That is why it is important to keep an eye on your hard surfaces as much as your soft surfaces. Grout can become discolored if it is full of dirt and grime and mold and mildew can begin to grow if it is in a warm and wet environment, such as a shower. In general, once or twice a year is recommended for tile and grout cleaning.
Here are things to consider when deciding how often you should have your tile and grout professional cleaned:
High traffic areas? If you have a large family or many guests, your kitchen floor and shower walls will get a lot of use. Businesses especially can have their hard surfaces take a beating from employees and clients.

Asthma or allergy sufferers: If you have children or family members who suffer from allergies or asthma, then you should consider more frequent cleanings of all of your surfaces in your home. Keeping your tile and grout clean can help your family breathe easier every day all year long.

Kitchen usage: The more you use your stovetop, the more that food debris will be in your kitchen.  Oil and grease will splash and unfortunately, settle into your grout even as you clean your tile floors weekly. Mopping can push around the oils, and they can still find their way into your grout.

Open windows: If you live out in the country by farmland or in open windy areas, dirt and dust from outside can blow into your home and land in your tile and grout floors without you even knowing that it is happening.
Our Team Offers Professional Service
At Master Clean, we serve our clients with hard and soft surface cleaning offerings. When our team comes out to clean your tile and grout, we will first assess the extent of what needs to be done and discuss with you how we will proceed. We use a special formula that does not have harsh chemicals to help loosen up the soil, stains and more that get deep down in your grout and remove it after it is at the surface. We stay away from cleaning techniques that can scratch or damage your surfaces and do not apply any acid-based cleaners. We also provide carpet cleaning and disinfecting services when you want to take your whole home or business to another level of clean.
When you are ready to make an appointment, contact us through our online form.